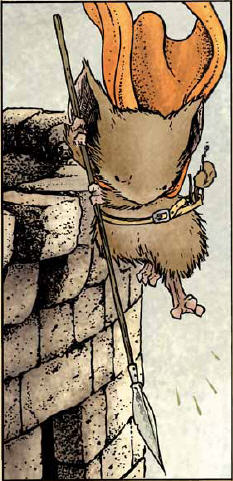 Concept:
A shy, bookish mouse with a thirst for knowledge.
Age: 28 Rank: Patrol Guard
Will: 4 Health: 4 Nature: 4
Appearance: Shiny blonde fur. His cloak is rust-colored. ("It'll never show the blood stains.")
His skills are:
Hunter 5, Scout 4, Fighter 3, Survivalist 3, Orator 2, Brewer 2, Harvester 2, Predator-wise, Tall Grass-wise, Bard-wise
(Her specialty is Pathfinder.)
His traits are:
Brave (1) Hardworking(1)
Resources: 3
Circles: 4
Belief: The Guard prevails so long as it has heroes.
Instinct: Take the most heroic action.
---
Born: Ivydale
Parents: Liam and Elana (harvesters)
His natural talent is Hunter.
His Senior Artisan is Gaillyn, a Brewer.
His Mentor was Captain Dunlevy, who emphasized Scout.
His friend is Brynn, a female guard mouse recruited in the same season as Aelwyn.
His enemy is Darwyn, his brother, a senior harvester in Ivydale.