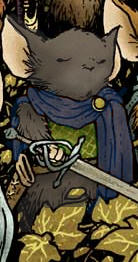 Concept:
Senior Patrol Guard. Decorated veteran of 1149. Respected in the Guard. 'Should' be a patrol leader or captain, remains a Patrol Guard, often assigned ad hoc solo missions (like Sadie from the books).
Age: 49 Rank: Patrol Guard
Will: 4 Health: 4 Nature: 4 (Saves for winter, but doesn't run and hide and doesn't fear predators.)
Appearance: He has thick black fur, speckled with silver. His cloak is blue.
His skills are:
Fighter: 5, Pathfinder: 4, Persuader 3, Boatcrafter: 3, Militarist 2, Scout 2, Survivalist 2, Cartographer 2 Map-wise 2, War-wise 2, Weasel-wise 2 (His specialty is Pathfinder.)
His traits are:
Tough (1) Guard's Honor (1)
Resources: 5
(Thrifty, always packs carefully for a journey)
Circles: 4
(Strong ties to the Guard (uncle-mentor), Did something of renown in the Guard (1149 war 'field brevet' to commander), has powerful enemies in the Territories (governor of Copperwood))
Belief: Miracles come through sacrifice.
Instinct: A path unmapped is a path lost.
---
Born: Port Sumac Parents: Teran & Melisandre (Boatcrafters)
His natural talent is Militarist.
His Senior Artisan was Havram, a Cartographer.
His Mentor was Emil, his uncle (mother's brother, deceased), who emphasized Pathfinding.
His friend is Rand, a peer and Guard Captain.
His enemy is the Governor of Copperwood. (!)