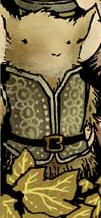 Concept:
A shy, bookish mouse with a thirst for knowledge.
Age: 25 Rank: Patrol Guard
Will: 4 Health: 4 Nature: 4
Appearance: Buff fur. Her cloak is also buff.
Her skills are:
Pathfinder 5, Scientist 3, Healer 3, Fighter 2, Hunter 2, Weather Watcher 2, Cartographer 2, Archivist 2, Cook 2, Medicine-wise, Path-wise, Widget-wise (Her specialty is Pathfinder.)
Her traits are:
Inquisitive (1) Clever (1)
Resources: 4

Circles: 3

Belief: Truth and knowledge are their own reward.
Instinct: Discover and document.
---
Born: Sprucetuck
Parents: Gwen and Cadfile (Cartographers)
Her natural talent is Scientist.
Her Senior Artisan is Mariell, an Archivist.
Her Mentor was Mary the Older, who emphasized Pathfinder.
Her friend is Aunt Moira, a cartographer in Barkstone.
Her enemy is Patrol Leader Thom, a senior member of the Guard.