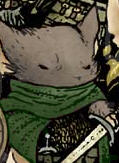 Concept:
An 'urban' fighter, more used to dueling without consequences than battles for her life.
Age: 26 Rank: Patrol Guard
Will: 4 Health: 4 Nature: 3 (Doesn't save for winter, doesn't run and hide and doesn't fear predators.)
Appearance: Shining grey fur. Her cloak is green.
Her skills are:
Fighter 6, Healer 4, Instructor 3, Smith 3, Persuader 2, Armorer 2, Weather Watcher 2, Duel-wise 2, Copperwood-wise 2, Armor-wise 2 (Her specialty is Fighter.)
Her traits are:
Independent (1) Short (1)
Resources: 4

Circles: 4

Belief: Glory comes to one alone, but Victory is only achieved with the Guard. (All for one, and one for all.)
Instinct: Always keep my equipment in fighting repair.
---
Born: Copperwood
Parents: Benedict and Portia (Smiths)
Her natural talent is Fighter.
Her Senior Artisan Richard, an Armorer.
Her Mentor was Warwick, her uncle, who emphasized Fighter.
Her friend is Saxon, a fellow guard, friend, and sparring partner during Winter seasons.
Her enemy is Miranda, a potter of Copperwood.