The Show:
TITLE: "Ill Met by Gaslight"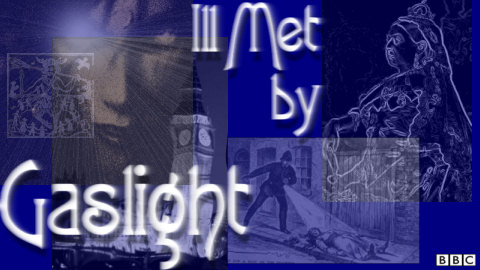 FORMAT: One hour action/fantasy/historical melodrama (think Alias meets From Hell)
SETTING: London, England, 1890.
PREMISE: Department M of the Special Branch deals with problems arising from the arrival of the Fae in Victorian England.
TONE: Serious, dark-edged, but not brutal or nihilistic. Some horror elements. Designed for play after the 9pm watershed.
TYPICAL EPISODE: A case involving some kind of magical or Fae element is brought to the attention of the Department, usually through their head, Roger Avebury. The protagonists investigate the threat and expose the culprit, dealing with the fantastic, the political and diplomatic, the difficulties of high (and low) society, and certain background mysteries that will play throughout the series. Part of the latter involves the reality and timing of the return of the Fae, their influence upon government and society, and plots involving and/or concerning them. In dealing with these external cases, the main characters find they must also deal with their Issues.
CURRENT STORY ARC: The first half of a two-part pilot aired Sunday, 22 May 2007. If picked up, it is expected to run for a 5-episode series.
PRODUCER: Dave Hill
The Cast:
The Story Arcs/Issues:
Fun Trivia:
The show is based on an abortive series concept, Shadows By Moonlight (2005). In that series, Roger Avebury was one of the lead characters, Dunboyne's first name was Thaddeus, Lillian's name was Wilhemina St John, and Octavia was a character slated to be murdered in episode 3. Casting was also completely different. The characters operated a small detective agency, Blue Moon Investigations.
The name of the new series remained up in the air even after the initial pilot episode was shot. Working titles included "Fae Britannia" and "Midsummer." Some early publicity material for the show uses the latter name.
Many fun Victorian Links.
---
OOC: This show was started for a very intermittent confluence of players (approx. monthly). The theme was decided after lengthy e-mail discussion, with an eye toward minimizing face-to-face time with that part of the series setup. We still ended up taking a couple of hours to thrash out the introductory series info.