Created at the behest of Mark Hunt, for a silly little project on MeWe.
Fire Goose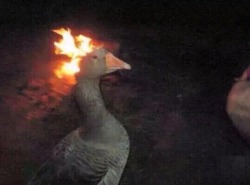 Small beast, probably evil
Armor Class 16 Natural Armor
Hit Points 30 (5d10 + 5)
Speed 25 ft., fly 80 ft., swim 35 ft.
STR 12
DEX 14
CON 14
INT 5
WIS 9
CHA 3 (because geese)
Immune to Fear (as near as we can tell)
The Fire Goose is basically just a goose, from a fiery pocket dimension. We assume. No one wants to go to whatever beknighted hellhole spawned something as terrible as a goose (which is already terrible) but also on fire. We wouldn't even know the damned things existed – and might then sleep slightly better – except some idiot in a robe summoned one and the sodding things keep pulling more of their feathered, furious kin over. Seriously, it's terrible. We may be doomed. Did you learning nothing from the Vrock Debacle that leveled the city of Yll, Kevin ?!?
Not noticeably larger than a typical goose, a fire goose is often mistook as its local cousins, if you approach in bright sunlight (which makes the fiery crown nearly invisible). However, once you get close enough (why would you get closer?!? – even if you didn't realize it's on fire, it's still a goose, and thus nothing but pure evil and spite), it will stretch out its wings and wreathe itself in flames; either as a power display or – and gods above and below help you if this turns out to be the case – a mating stance.
The fire goose is not afraid to attack an intruder, but is also MORE than willing to summon aid and kill anything not goose-shaped with the support of its hellish kin. It is not unusual to see two or three fire geese turn into a large flock of twenty in less than a minute.
Also, they're apparently mating with local geese as well, now? And get viable progeny? Gods' tears, Kevin, what did you do? This is the darkest timeline.
Squawking Lava Charge. If the fire goose moves at least 20 feet straight toward a target and then hits it with a beak attack on the same turn, the target takes an extra 7 (2d6) fire damage. The target must also succeed on a Wisdom Save or become Frightened. This is not a supernatural effect: geese are just effing terrifying, man, and this one is on fire.
The Great Honk. When the Fire Goose feels threatened, wants to BE threatened, or – as near as we can tell – just bloody feels like it, it may attempt to summon more Fire Geese to its aid. The Fire Goose must attempt a CON save; on a success, its call was loud enough to be heard beyond the filmy veil between worlds, and another Fire Goose appears within 30 feet, already angry and ready to get stuck in.
Fearsome Hiss. At The start of the Fire Goose's turn, it wreathes itself in flames and emits a hiss that affects all creatures in a 15-foot cone in front of the dire goose. Each creature in the area must succeed a Wisdom Saving or have disadvantage on its attack rolls until the end of its next turn.
Fire Beak. Melee Weapon Attack: +6 to hit, reach 5 ft., one target. Hit: 1d6 + 4) burning damage.
Wreathed in Fire Wing Attack. Melee Weapon Attack: +6 to hit, reach 10 ft., one horrified target. Hit: 10 (2d6 + 4) fire damage. CON save or become prone.