Because I didn't have enough going on, I decided to start an online game of Fate, using a combination of Google Hangouts, Roll20, and (after the fact) YouTube (to share the recorded game sessions).
This is what I sent out to a long list of potential players:
You wake up in a room.

The floor is cold, stone, dry. The lights – three bare bulbs dangling from the rafters – do little to dispell the gloom. It takes time for your eyes to adjust.

You stand, brushing grit and dust from the front of a tailored jacket you're sure you've never seen before. There's a red stain on the sleeve.

Don't worry. It's not your blood.

I'd like to run a short rpg game, via Google Hangouts. Somewhere between three to six sessions, once a week, probably on a weeknight, after dinner and the kids are in bed, and wrapping up in time for everyone to get to sleep at a reasonable time. Don't worry about the system or anything – the scenario is set up to teach the game and create characters as we play – it's a method that works particularly well with this system.

The italicized bit is the basic set up.

If you're interested, let me know. If you're not, for whatever reason, don't reply. 🙂 Easy peasy.

If we get enough people (I'd say three), we're good to go.
I ended up with four, we agreed on a good night (Mondays) and started play last week.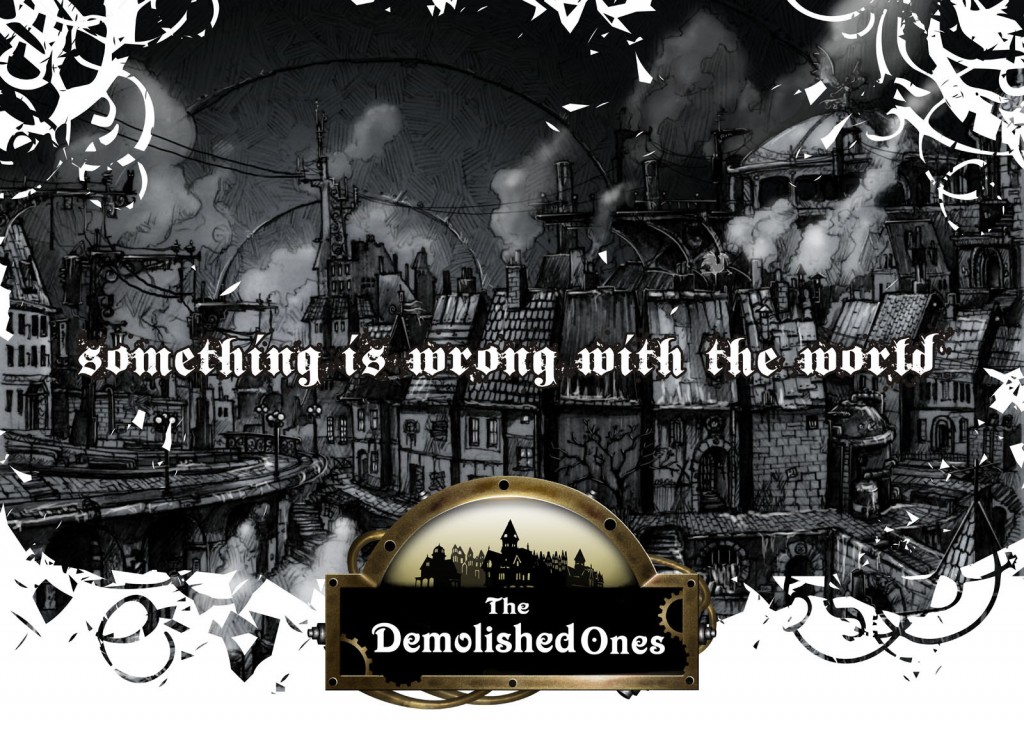 Now, as I said, we recorded the game session as we were playing (check out session one, here), but while it was a nice recording, it doesn't capture what's going on in the Roll20 window, so the handouts that I'm laying out in the virtual tabletop area can't be seen by anyone watching the video later.
The upside: that means I'm still going to end up doing written play reports.
You Wake Up In A Room
I started with everyone unconscious and lost in unpleasant dreams. Each character's dreams were different, and I slipped 'notes' to each player via Roll20 to let them know what sort of images they were struggling with.
Kim: A strange looking needle, coming toward your eye.
Reggie: The sound of a deadbolt sliding into place.
Amanda: Someone standing over you, shadowed, a knife in their hand.
Dave: The feel of something in your hand: a straight, hard handle, slightly curved and rough to the touch.
Reggie wakes up first, and after getting his bearings a bit…
… he turns his attention to the other three people lying on the floor nearby.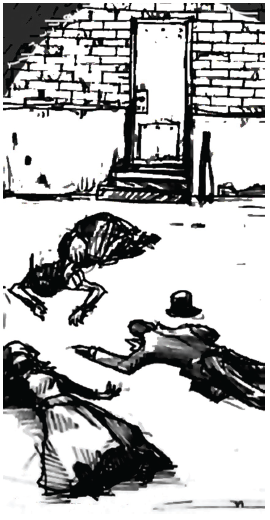 Still on his knees, he moves over and tries to wake up Kim who, upon seeing Reggie, freaks out – to her, right then, he seems a horrible monster – and crab-walks backward and right onto/over Dave, who starts to stir. All this ruckus (Dave trying to get out from under the scrambling woman, Kim trying to get away, and Reggie trying to calm Kim down) wakes up Amanda, who is furthers from Reggie and closest to the door.
The bare bulbs are bright enough to give some illumination to the room, but there are shadows and dark corners everywhere.

Along one of the long walls are a desk and chair. There are three steel drums in one corner; from here, they smell of oil.
I stop at this point and have each player give us the most notable physical feature about the character belonging to the player to their virtual 'left'. Here's what we got (with pictures that came later):
Dave: (via Kim) Thin and wiry, 30ish, going gray. Violet eyes.
Reggie: (via Amanda) He's huge. Hulking. Well over seven feet tall.
Amanda: (via Dave) She's Irish – just definitively Irish. Red hair. Freckles. Et cetera.
Kim: (via Reggie) She's tiny. Clearly a grown woman, but about the size of a ten-year-old girl.
The four, still a bit on their guard, start poking around. Their clothes are bit odd to them – Victorian style garb – comfortable, but not familiar. Kim is struck by the clothing in contrast to the electric light bulbs, and by the rotary phone on an old wooden table-style desk on one side of the large room. Incongruous.
Amanda messes with the phone a bit (the phone has a dial tone, but 911 yields no response, and she knows no other numbers), and heads to the other end of the room to check out a stack of fairly new and smelly oil drums while Reggie tries the nearby door (heavy, metal, and apparently barred). Dave's trying to ask questions of everyone, but no one really wants to chat, at least in part because no one really remembers who they are, how they got here, or why they all seem to have a few bloodstains on their clothes, but no injuries.
Amanda Investigates the barrels and I have her tell me what rating she'd like the skill at. She selects 2 (Fair) and writes up a Character Aspect to go along with the skill.
"I investigate everything." (Lovely, and nicely compellable.)
She discovers someone else behind the barrels, sitting an old wooden chair and asleep.
Or… no. Not asleep. She can't say how she can tell with just a glance, but the mystery man is definitely dead.
Also interesting: Amanda doesn't announce the dead body, and instead quietly searches him for clues and information, snagging a wallet from an inside jacket pocket, and a key from a pants pocket. Also: a very 'cause of death'-looking stab wound on the back of his neck that completely severed his collar and tie.
Meanwhile, Reggie can't get the door open, and Kim (perhaps trying to get further from Reggie) heads toward the same end of the room as Amanda, where there's a large cargo-loading sized door all along the far short end of the room, chained and padlocked.
Kim pulls few bobby pins out of her hair and starts going to work on the lock (making some notes on her character sheet):
Aspect: I'm Used to Getting out of Tight Situations
Good (+3): Burglary
The lock is huge and stiff, though, and while the bobby pins can move the tumblers, actually turning the lock will require something a little more sturdy. Kim casts around for something like that and sees (over by the oil drums, but on the side away from crouching Amanda) a knife.
A bloody knife. Oh good.
Kim, like Amanda, is quite unfazed by the evidence of violence, picks up the knife, wipes it down a bit, and goes back to the lock.
Reggie, after struggling with the locked door and eying the windows fifteen feet overhead, growls to himself, stalks over past Dave toward the desk, and picks up the chair next to desk in one hand.
The phone rings.
Reggie stops, obviously nonplussed, but Dave reacts with little surprise, picking up the handset and answering with a cautious "hello?"
"The police are coming," says a female voice. "You need to get out of there. They can't find you with the body."
"What body?" asks Dave, but the line has gone dead.
"Ahh… apparently the police are coming," Dave announces, loud enough to carry. "And… is there a body in here?!?"
"Yes…" Amanda answers, waving distractedly back toward the barrels she's now abandoned.
Reggie growls, turns, and whips the chair at the window above and to the right of the door.
Aspect: When I get mad I get REALLY mad
Good (+3): Might
The chair is destroyed, as is the window.
The two-tone sound of police sirens is distant in the foggy night air, but getting closer.
"Do you need help?" asks Dave? "Should I climb up on your sh– Oh. We can use the desk."
He moves the phone to the side, starts to pick up one end of the light desk, but Reggie simply picks the whole thing up and carries it beneath the window and starts to climb up.
Dave climbs up after him, then takes the boost up to the now-clear window sill. The room – a warehouse, Dave realizes – is sunken a bit on this end of the building: it's a fifteen foot drop inside, but only 10 to the street. He makes it easily – he's surprisingly fit for a gentleman.
Aspect: Priest's head on a soldier's shoulders.
Equipment: A sharp pen knife with a rough wooden handle.
Good (+3): Athletics
From the outside, Dave is easily able to unbar the door (just as Kim finesses open the lock on the far end of the building and slips off the chain) – the door was bar, but the bar wasn't locked in place – almost as if it was only meant to keep someone in.
Reggie heads out once the door is open, but Amanda stays for a moment, suddenly curious (Aspect Compel) about the lone drawer in the desk. She snags Reggie and says "Can you break this?" indicating the desk.
He doesn't even pause. Once hammering fist and the desk is in two pieces. Amanda snags the two newspaper clippings inside and tucks them in with the rest of her collection of Odd Things.
Meanwhile, Kim has stepped out into some kind of loading yard at the back of the building and (after spending a Fate point to declare it's there) hotwires a truck parked in the back.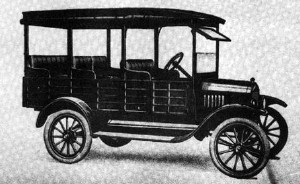 The other three, gathered in front of "Warehouse 23", hear an engine getting closer from the alley alongside the building (see crude map) and stare as the tiny woman in the truck lurches to a stop next to them.
"Need a lift?"
"Shotgun," Dave immediately replies. Amanda grumbles. Reggie was already climbing in the back – the only spot he'd fit.
They pile in, and Kim instinctively heads away from the sirens.
---
I stop here and ask each player for the most notable personality trait of the person to their virtual right:
Amanda: (via Reggie) Scatterbrained – a flibbertigibbet
Dave: (via Amanda) Always looks like he's plotting something
Kim: (via Dave) One damn determined woman
Reggie: (via Kim) Kind.
The players each note these observations on their character sheets.
---
They ride in silence for a few moments, then Dave says "So… where are we going?"
"615 Beacon Street," replies Amanda. Everyone looks at her, sitting in the back seat, reading a card she's pulled from a man's wallet.
She holds up the card – some sort of ID for one Jack Smith. "I found it on the body."
"Riiiight," Dave says, then, "Anyone know where Beacon Street is?" He looks around at the quiet, fog-shrouded night streets. "Or where we are?"