Contrary to the evidence from this and previous posts, I am definitely not running thinking about running a Fate-based Star Wars game. I'm not. Shut up.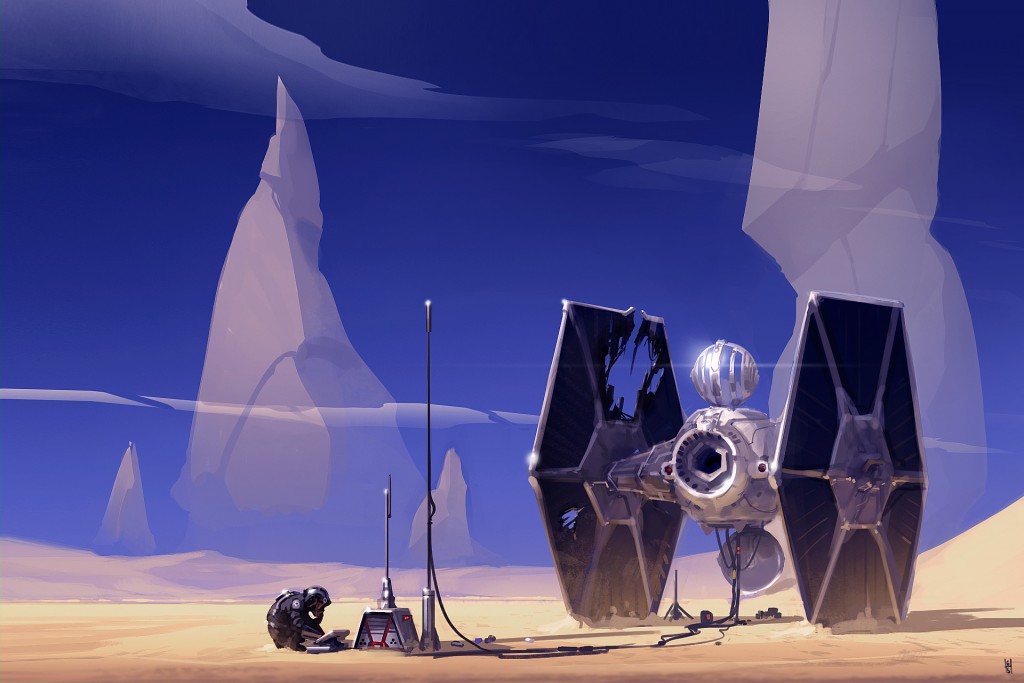 Basic Guidelines:
If you're in a personal ship (where you're in some way the 'crew' – usually indicated by an Aspect), use your skill rating instead of the ship's skill, with the ship giving a flat +1 to the roll if its related skill is 2 or higher.
If you just hopped into a ship and started doing stuff (see: Rey and Finn in the Falcon), use the ship's skill for any related action, with your skill providing a +1 'assist'.
Conversion:
In general: 1D in WEG = +1 in Fate. Ignore all 'pips' on WEG stats.

Maneuverability/Shields: add Maneuverability to Shield rating (if any) and convert the total 1:1 for "Defense" roll bonus (2D + 1D = +3 Defense in Fate.)

Space: Divide by 4 and round down for situational bonus to Overcome rolls for moving between zones. Use the same number for Atmospheric fights.
Hull: Each full D of hull gives the ship one stress box.
Sensors: Straight 1:1 conversion for related contests.
Weapons:
Convert Fire Control 1:1 for ship's "Shoot" skill.
Divide Damage dice by 3 (round down) and give the ship that much Harm rating. (6D = 2 Harm, 5D = 1 harm, et cetera).

Ion weapon damage cannot be mitigated with Stress, only Consequences.

Differences in vehicle Scale converts 1:1 for bonuses and penalties, as appropriate. (A 2-shift difference in scale in WEG gives the larger ship -2 to defense, -2 to attacks, 2 levels of Protection (shift damage down by 2), and +2 to damage. Conversely, the smaller ship gets +2 to defense and attack, shifts damage taken up by 2, and does -2 damage.

It may feel more accurate to the source material to give BOTH the smaller and larger ships a bonus to Defend rolls – the smaller ships are harder to hit, while the bigger ships' shields are harder to get through.
Create Advantage rolls can do wonders here by giving opponents the ability to take out gun emplacements, shield generators, propulsion, et cetera. (Example: Darth Vader in Star Wars Rebel's Siege of Lothal destroys a rebel cruiser with a single TIE fighter by stacking a pile of Create Advantage rolls and then one-shotting the target.)
Finally: Eyeball the resulting conversion, tweak anything that seems wrong, and slap a couple aspects or a stunt on it, as needed.