[Not a lot of dice rolling and no fights in this one, but good character building stuff.]
When we last left our heroes*, they'd just beaten down three guards and escaped from the "science tube" room where they'd been held in some kind of suspended animation. Rather than going out through the main exit that their mysterious 'voice in the ear' benefactor had provided them, however, they'd slipped out through a maintenance hatch that Angelia (Jadyn) had discovered, and were now crouching in a narrow passageway, next to an access terminal.
(* And we the players did actually leave them for awhile – this game took place over the four days my niece and nephew were in town. After the first fight, everyone crashed for the night and just left everything where it was on the gaming table. Being able to do this is, in fact, why we *have* a dedicated gaming table.)
"I wasn't expecting you to find another way out of that room," says the voice in their ears. "Heck, I didn't even know there was another way out: the schematic I'm working with only shows the public corridors – it must be something they use for the patrol and security robots, so there's a good chance the guys with guns don't have any idea where you are right now. That's good news, since it means I can get you a lot closer to getting off that ship without alerting more guards."
"We're on a ship?" Mikenna asks.
"Of course we're on a ship," Anna pipes up. "Can't you tell? We're probably in deep space right now."
"Actually…" says the voice on their ear buds. "You're not, though you are pretty far up – directly over one of the…" There's a pause. "Is… any of this ringing any bells? We've had problems with amnesia from some of the people we've freed in the past."
No on says anything.
"Riiiight," the woman on the other end says. "Well… is there anything you *do* remember?"
So we talk a little bit about what the characters know about themselves and what they know about each other. I encourage really sketchy levels of detail. The kids determine that Angelia  (Jadyn) knows both Mikenna (Malik) and Anna (Kaylee); Anna knows Angelia, but only knows of Mikenna; Mikenna recognizes Angelia, but doesn't know Anna at all.
Anna is eight, Angelia is 14 (a freshman who's been taking high school classes for the last two years), Mikenna's a junior.
At this point, we stop to talk a bit more about Aspects and what they do. Once that's covered, we talk about the High Concept aspect they all already have, and what the other Aspect 'slots' are for.
High Concept (already covered)
Trouble Aspect
Relationship with Other Character 1
Relationship with Other Character 2
Something I'm not talking about yet.
I ask the players about Trouble Aspects and if there's any sort of Aspects of their character that, while sometimes useful, tends to cause them problems more often than not. The kids, perhaps unsurprisingly, immediately get this concept. Kaylee already has one written down (Bites Off More Than She Can Chew, another expression of the character quality at the core of her first stunt), and with that example, it's pretty easy for the other two kids to come up with something.
Angelia: "Wait a minute, let's think about this…"
Mikenna: Good with crowds, bad with people.
I'm really happy with all three of these as Trouble Aspects. To be honest, they're probably the best examples of these types of aspects that I've seen, let alone gotten to play with first hand; they're absolutely doing their "first job" of giving me an easy level to pull that will reward the player with fate points, but they're also actually useful – every one of them can be used to legitimately provide benefit in certain situations, and that's so often not the case with Trouble aspects.
We also take a look at the information they came up with earlier about each other, and look at relationship aspects. Jadyn already has one written on Angelia's sheet (I look out for Anna), and based on that the girls decide that Angelia babysits Anna sometimes.
From that, Kaylee writes down her first Relationship aspect: "Angelia is like the big sister I never had."
Malik and Jadyn talk about their situation a little bit more, working out that Angelia is one of those kids that kids her own age don't like because they're taking advanced classes, and that older kids don't like because the younger kid is showing them up. The kids work out that Mikenna is getting secretly, informally tutored on math and science by Angelia.
None of them really remember what happened, or how they got where they are right now, or much about anything or anyone beyond the people they're looking at, but they remember a little.
Malik writes down: "I trust Angelia with the 'brainy stuff.'"
A fascinating dynamic develops out of this, in that Angelia (the 'middle' kid, both in the game and at the table) is essentially the leader of the group.
I'm happy with getting the trouble and the first relationship aspects down at that point, so when the kids struggle with their second relationships, I wave that off for later and move things along.
"Okay, this is Oracle again," say the voice in their ear buds.
'Oracle?' mouths Mikenna. Angelia shrugs.
"I've been going over the schematics for the tunnels you're in, and I think I've found a way to get you closer to one of the hangars, which should be the best way to get you off the ship." The maintenance screen they're crouched next to light up with a map, and a series of passages light up. "Follow this route, and that should get you almost all the way there without you needing to go back into high-traffic areas.
"Almost?" asks Mikenna.
"Yeah… there's a little bit of a problem, but let's get you moving for now."
The trio heads out, and traverse a fairly large distance without any problem (bypassing about a half-dozen rooms I'd sketched out encounters for and now discard, unmourned). Oracle brings them to a room with a round shaft leading down.
(This is something I've put in place to encourage the players to come with some kind of 'movement power' for their guys.)
"You need to get down to the bottom of their shaft," says Oracle, "but it's quite a ways down – don't just jump."
"How about we slide?" say Anna, and creates a kind of ice platform anchored to the side of the shaft, steps onto it, and starts building the platform down like a large spiral slide. Pretty normal ice-guy thing, but new to the players, so we do some rolls to control the descent and keep from descending at an out of control speed.
Meanwhile, Mikenna has pulled a line out of her utility belt, and is using it like a abseil/zip line, while Jadyn describes Angelia getting down by holding onto the walls of the shaft with her telekinesis and lowering herself that way.
I point out that anyone looking at Angelia would think she was just flying down slowly. Jadyn says "I can fly?!? Cool!" and Angelia's movement accelerates rapidly.
We roll some dice to see how everyone's new method of getting around works, and given the opportunity, all three kids decide to accent their ability with a Stunt. Jadyn can't think of one yet, but knows she wants one.
Anna
Because I can make ice-slides, I get a +2 to flashily overcome movement-related obstacles.
Mikenna
Because I have a zip-line, I get a +2 to cleverly overcome Physical obstacles.
Clever +2 (Despite leaving 'the brainy stuff' to Angelia, Mikenna is quite smart herself – she just doesn't apply it much of the time, apparently.)
The shaft opens out into a utility control room, and we're sort of back to a room vaguely like a scene in the DCUO tutorial.
"Okay," says Oracle, "the good news is, you're almost to the hangar. The bad news is, they know you escaped from the holding pods, and they've put guards on all the choke points that might let someone off the ship. That's the next room – it's marked 'waste accretion' on the schematics. Take a peek in there and see what kind of guards they have posted."
Anna (stealthily) creeps up, and reports a half-dozen "really big spider robots." Basically these guys.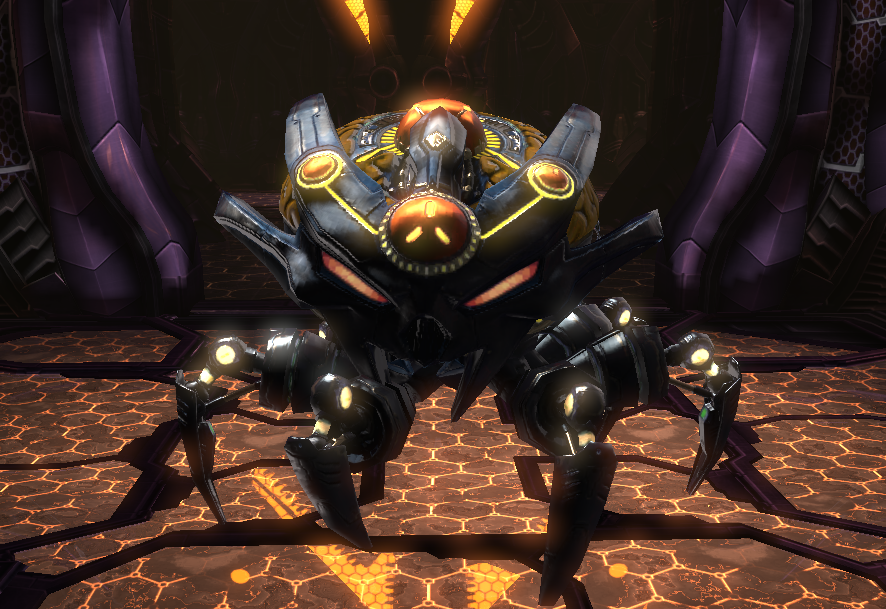 Meanwhile, Jadyn has noticed that there are a couple warning lights blinking on the control terminals in the room. After working out what the lights are supposed to mean, she Cleverly deduces that the room next door is supposed to be where "Earth trash" is accumulated and destroyed, but all the delivery tubes for the room are currently locked, and the supply of various kinds of trash are building up in the massive tubes over the robot's head.
"What's in each of the tubes?" Jadyn asks.
And therein begins a plan.