I grew up in central South Dakota and, as a gamer from an early age (I convinced my folks to buy me the DnD redbox from a Sears catalog when I was nine), had to deal with a lot of flak, thanks largely to SUPER-informative publications like the Chick Tract "Dark Dungeons", an upbeat little piece that I would find in my locker at school or see in my Sunday School mailbox with fair regularity.
I sometimes voice a fair amount of disdain for living in South Dakota, and you should understand: a lot of my bitterness comes from being the subject of a sort of passive-aggressive, community-wide intervention for about eight years. It got old.
With that said, my parents tended to take a pretty understanding view of the whole thing. I was involved in what I think is commonly known in academic circles as a "shit ton" of extracurricular activities, and my grades were good… in short, hauling around two gigantic, overstuffed gym bags full of DnD hardbacks wasn't having any detrimental affects on anything other than my overburdened spine, so they general left it alone. (They took a similar approach to my voracious consumption of fantasy and science fiction, to the exclusion of almost all other literature, figuring "it doesn't really matter what he's reading, so long as he's reading.")
Still, it's always been a bit of a sticking point with me; a sour note, if you will. It's one thing (and a good thing) for your parents and extended family to "leave you be" to pursue your own interests, but it's another thing entirely for them to join you from time to time in this thing that you really enjoy. I certainly knew what that kind of thing felt like, thanks to my time in band, and sports, and theatre productions, but I'd never got my family to sit down with me and help me slay a dragon.
Apparently, that's always bothered me at least a little bit, because I keep trying to find "my kind" of games that my family might also enjoy; I mean, I know they like games, because we play a lot of them, and always have — my parents' collection of board games, decks of cards, and domino sets is quite impressive.
Generally, this effort falls far short of success (I don't even pull the game out, let alone try to play it), but there have been a few bright spots here and there: my dad took to Shadows Over Camelot like a pro, for example: fire gleaming in his eyes as he undertook the destruction of catapults that dared threaten the castle.
There was always the tantalizing opportunity for  success, is what I'm saying.
That opportunity has gotten a lot better as my sister's kids get older, because they are brilliant and funny and happen to think their uncle is somewhat cool. I've played very short games of Shadows and Otherkind with them before, but as I packed for one of my far-too-infrequent visits back home, there was really only one game I considered worth sticking in my backpack.
That game was the shiny new hardback copy of Do: Pilgrims of the Flying Temple that I'd just gotten in the mail days before, written by Daniel Solis and inspired in part by animated series like Avatar: the Last Airbender (a big hit with the preteen crowd in my family).
"I brought a game along for us to play," I told my twelve-year old nephew.
"What kind of game?" he asked.
"Kind of a story-telling game," I said.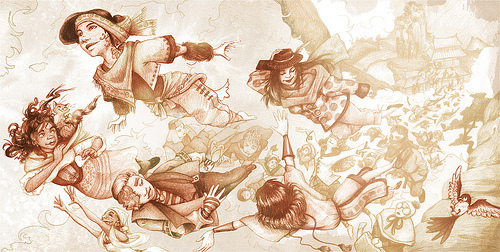 (Now, I've gotten a little tired of the "storygame" label that gets slapped on any indie-published game these days, but I want to be clear about this point — Pilgrims of the Flying Temple is very definitely a story-telling game in the purest, non-jargony sense — in fact, I would call it a story-telling game far more readily than I would call it a roleplaying game, and I don't think that would upset the author very much; certainly, I intend it as a compliment.)
"But we need a couple people to play," I said.
'How many?" he asked.
"A few," I repled. "We need to get your mom and Grandma to play."
"Coooooool," he said.
Getting my nephew on board was the easy part, however, because our limited schedule and (literally) dozens of relatives coming by to visit, hold the new baby, and get caught up meant that we didn't really have a large window of opportunity.
In fact, it wasn't until Saturday evening, with our departure looming the next afternoon, that I decided that if the game was going to happen at all, it had to happen Now.
I won't lie: I pretty much used guilt to get people to participate. In short, my nephew wanted to play, my nephew is awesome and kind of adorable, and anyone who said no would not be disappointing me, but him… which is basically like kicking a puppy.
No one wants to kick a puppy.
So, thanks to that bit of leverage, we got the smaller kids to bed (I'd intended for them to play, but it had just gotten too late) and sat down with my nephew, my wife (a gamer), and my sister and mom, both of whom took their seats protesting that (a) they didn't get these kinds of games (b) they were absolutely crap at coming up with stories and (c) they were way too tired to think.
I would not be deterred. Passports (character sheets) were handed out, and the super-simple process of character creation began. I explained the process of coming with a pilgrim name, gratefully read example names from the beautiful book, used my own character (whom I'd played while the game was still being playtested) as an example, and in a few minutes we had our pilgrims assembled and ready to deal with the requests for aid being sent to the Flying Temple.
D, my nephew, presented us with Pilgrim Punching Fox, who gets into trouble by trying to solve problems with his lightning fast kung-fu, and who helps people by being clever, fast, nimble, and generally fox-like.
B, his mom and my sister, came up with Pilgrim Stinking Sherpa, who get into trouble because of the overwhelming stench that surrounds her, and helps people by leading them to the best course of action.
J, my mom, eventually worked out Pilgrim Curious Dog, who gets into trouble by poking around in things she shouldn't, and helps people by being loyal.
K, my wife, introduced Pilgrim Warm House, who gets into trouble by believing unswervingly in True Love, and who helps people by providing shelter.
I brought back Pilgrim Broken Bear (formerly Broken Stone), who gets into trouble by breaking things accidentally, and who helps people by being protective.
The exciting thing: we hadn't even gotten through character generation before my nephew and sister were kicking in ideas, brainstorming different ways the pilgrims' Banners (bad points) and Avatars (good points) would work in play, and even making suggestions to J for her character's name — she's a literal person, and the metaphors that lie behind most Pilgrim names were a bit too much for her at 10pm, but once we focused on what she wanted (loyalty, for example), and then found a word to go with that, it was easy.
Here's how play went.