It's been a little while since I've had a chance to play any "of your cool games" with my niece and nephew (see here for the last time), but my family was coming out, and I'd been informed that they definitely wanted to play SOMEthing.
They didn't really say what, so I talked it over with Kaylee and after some back and forth, we figured we'd go with Fate Accelerated if they really wanted to play using the same system we'd used last time, and Dungeon World if they didn't have a preference. (Kaylee was keen to do Dungeon World in a freeform setting, rather than the Dragon Age game we played about twelve sessions of this summer – she thought that setting would be "too rough.")
Unlike last time, I'm not going to get into an actual play, because this time wasn't much like last time.
For starters, we didn't get nearly as much time to play as we did during the last visit; last time was during the holiday break, my sister was out for most of a week, and our two youngest kids were at daycare for several of the days, so we had all kinds of uninterrupted free time. This time, we had eleven people banging around the house, only two evenings where the kids were all staying in the same house, and we weren't able to even talk about the game until about 9pm, both nights.
But WITH THAT SAID, I am still really impressed with the background and story Malik, Jadyn, and Kaylee were able to put together in very little time playing Dungeon World – a game meant to represent a genre my niece and nephew knew only as "pretty much like The Hobbit."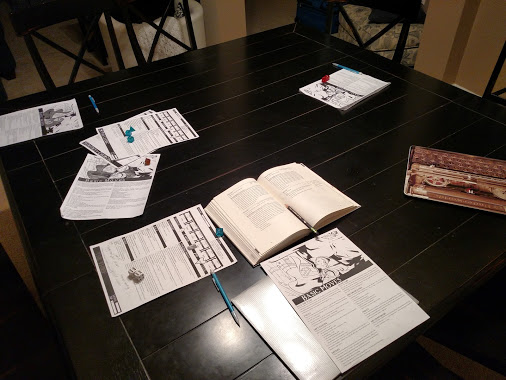 We basically started from nothing, with no background at all. The kids picked out characters to play from the stock list. Once we got to the part where everyone defined Bonds with each other, I started asking questions, and their answers created everything about the situation and the world we were playing in.
I could go into some detail, but the upshot is that after maybe a half hour of Bonds-related questions, we had a bustling, cosmopolitan city ruled by a noble class secretly infected by vampirism over the last decade. Our heroes (a former-noble thief, bard with expertise in the undead, and priest of secrets, magic, and mayhem) were dead-set (heh) on exposing the vampiric nobility to the masses and bringing down the secret regime.
This from a 10, 12, and 16 year old – two of which don't have any real exposure to the genre, at all.
Many of the newer RPGs out there suffer (in my opinion) from a kind of assumption of familiarity from the players. In some (worse) cases, the assumption goes further, figuring the players will not only know the genre(s), but get the irony of the game/setting/mash-up — in most cases, it makes the game uninteresting or unplayable for my young family members.
In this case, I was pleasantly surprised to see a game that could take real newbies and help them get a solid game going.
We didn't get enough time to play – not a fraction of 'enough' – but we certainly wished we could, because the game we'd come up with (thanks in no small part to the way Dungeon World is set up) was engaging and exciting and, put simply, fun.
Five of five stars, will definitely play again.